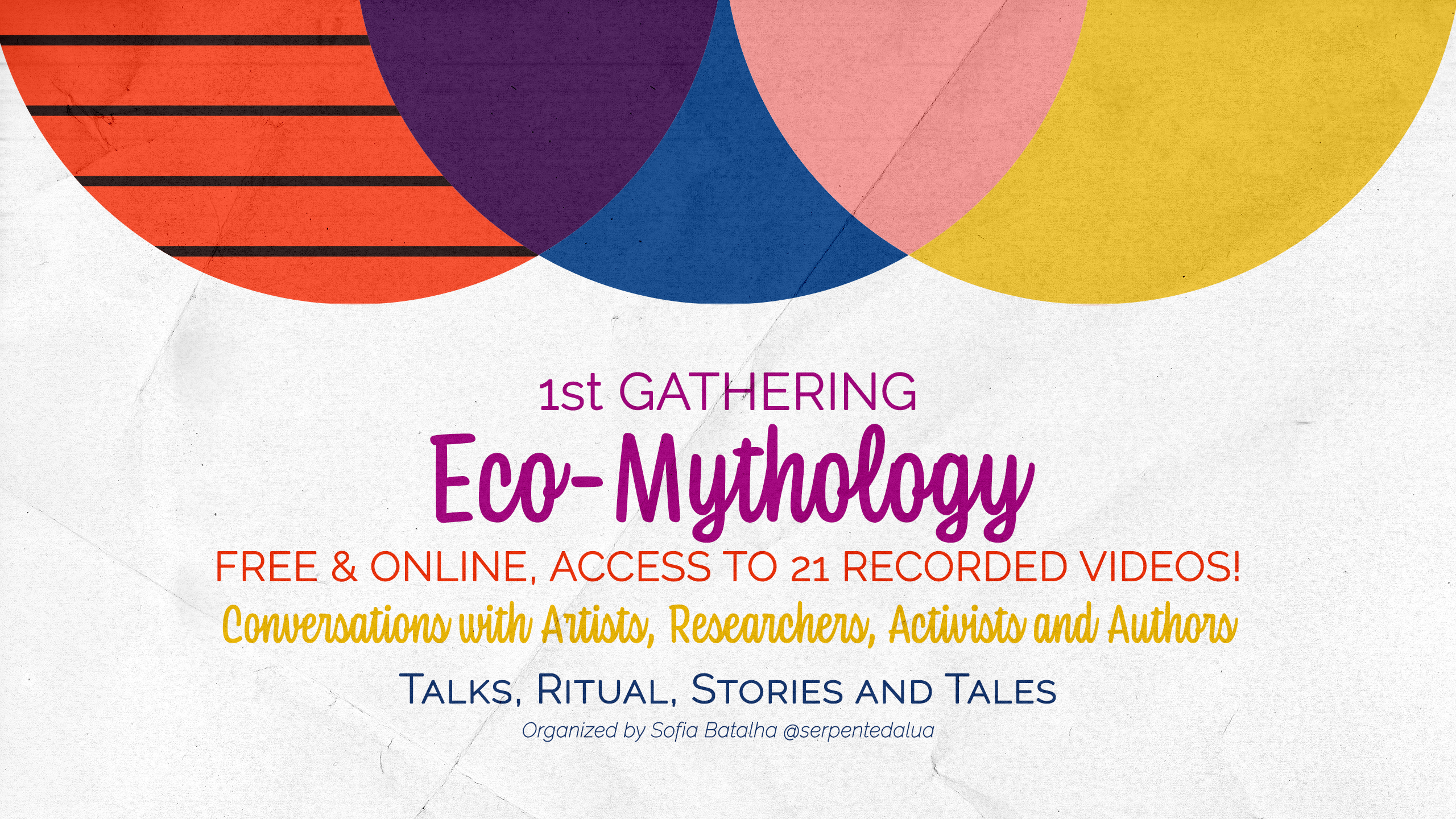 Program & Contents
This is a pioneer meeting in Portugal about the need to intertwine Ecology and Mythology; about the importance of how we tell stories, be they personal, cultural, social, scientific or even political.
​Twenty-one 45 min recorded presentations, in English and Portuguese (English subtitles available), for you to watch at your own pace.
​This event does not intend to define or crystallize the concept or territory of eco-mythology. Rather, it intends to take on its many voices and diverse contexts of time and space, just like a vibrant ecosystem where multiplicity is the key to resilience.
​Here we speak the languages of the earth, its ferocity, and subtlety. We challenge anthropocentric perception. We make ourselves available to listen and feel through the lens of radical and eco-systemic relationships. Furthermore, we allow other nuances to nourish us, like the voice of the wind, the stories of the mountains, or the whispers of the deep sea.
Here you will find all the recorded contents – the password to watch the videos is: Ec0myTh2o23.
Welcome to the first Eco-Mythology Gathering in Portugal.
A Gathering of Artists, Researchers, Activists and Authors, through Lectures, Rituals, Stories and Tales.
🌕 It finds us here, right in the middle of our daily lives: of speed, responsibilities, and all the things left undone by all the pressures, anxieties and expectations.
🌕 Exactly here, where all the stories whispered to us and woven together, where every moment meets the more-than-human narratives, always metamorphosing and unfolding.
🌕 So we don't have to go beyond, we don't have to run away, undertake, pressure or even control. We just have to go back to feeling and listening deeply. Humbly listen.
🌕 Because the place of living stories is the place of the skin, which touches and feels, which connects and vibrates. So is the place of bones, which recall ancient memories of ritual and belonging.
🌕 So this invitation to bring together these diverse pieces of knowledge and voices, different territories and life experiences, is to meet us here where we all are at every moment, simply in the middle.
🌕 It is an invitation to symbiotic and more than human dialogues with the stones, the worms, the wind, the trees, the waters, the clouds, or the birds.
🌕 I am delighted for this invitation and opportunity to be able to be together, even if virtually, so that we can listen to each other and feel the diversity and paradoxes, by different experiences of what it is to be place and what it is to anchor and belong to these stories and myths. So ancient and banal that we forget they are part of us.
May these multiple voices and wisdom, those of the shadows, the neglected, the forgotten and the mutilated, unfold and encircle Life, waking us up from the torpor of modernity.
It is an event in deep gratitude and reverence for the living stories that pass through us and rock us. Those that can remind us of who we are.
A big thank you to everyone who lent their voice and knowledge, fertilizing this rich ecology of stories, but also to everyone who participated in this event in any way! To everyone who allowed themselves to be touched, questioned and involved. ❤️🙏
Participants' testimonials
The lectures were spread out over the days, meaning that each day the topics covered were present in their entirety. I felt more attentive to the details of the places on my walks, I connected more wholly and presently with the wind, the trees and the animals I came across, as if I were seeing them from a more present, less fragmented place. I heard stories that revealed themselves and arrived in different ways. At the same time as feeling more connected to the place, I also felt more present in my body 🙏 truly grateful.
This was my first dive into this subject. Until then it was the words that enchanted me, but clearly not always well understood. And so an intuitive attraction arose that unfolded into a fruitful, challenging and overwhelming adventure. They were conversations that opened wide doors that had been closed. It was an invitation to walk in a deep, obvious and uncomfortable direction. Questioning themes, patterns and cultural practices that are so deeply ingrained in us is fascinating, difficult but essential for ethical coherence between all beings in the environment we live in, without the need to graduate from the most important to the most insignificant. It may be easier to be at peace alone in nature, but how beautiful to find this union with the whole in the midst of a polluted and naturally frenetic city. I highly recommend it to those who are attracted to Sofia Batalha's words without really understanding them. It's for something much more fascinating and vibrant than our intellect. Thank you Sofia! Congratulations!
It was transformative in the sense that the word 'rootedness' went from an abstract and mental concept to something real and effectively connected to our land. It expanded my awareness of topics that I considered hermetic.
Old and new things to remember. There were many questions to reflect on and feel, and I will certainly revisit them all. I'm very grateful to be able to "participate" in listening to these wonderful exchanges. Thank you Sofia for your generosity in creating this "space" of freedom and liberation. Thank you.
It was an overwhelming, wonderful experience, many seeds planted… It's urgent to bring people together in defense of life!
That these initiatives are precious seeds for the human heart, so distant from itself and from the cosmos that it is. I hope they are mustard seeds that spread, little by little, and grow, in the invisibility of the dark nights, between the new moon and the full moon, and that they rise in the precious light of the sun, well rooted in the fertile soil of the Earth.
Deep, beautiful and touching, even with the difficult parts that have to be seen and felt. There are sensations and experiences that are still happening and that I don't want to bring up just yet. Comforting and a beacon of hope in that I felt in a safe space and in a community like minded in Portuguese. I believe that on these topics and from what I have seen, there is nothing in Portuguese with this quality, competence and depth, and I have to say that even in English this was far ahead of other experiences. I hope that this is the beginning of a seed that can germinate and that I hope to be attentive to and in some way follow.
What words can I use when it is the Soul that has felt deeply?
I went for an immersion and felt different in terms of my belonging and connection with the living forces.